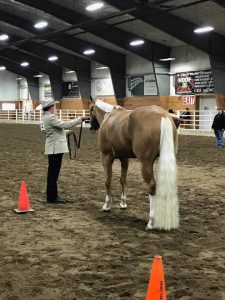 Finished the weekend strong in Winona Minnesota.
Kian had 9 Firsts in the Youth Color class with 18 points.
5 Firsts, 4 seconds, 3 Reserves, and one Grand in youth geldings. We went 1st, 2nd, 3rd each day in Amateur Color earning 27 points. Kian showed in the Open Color winning 3 firsts, 3 seconds, 1 third and 2 fourths, earning 26 points. He also earned Phoenixes first 3 showmanship points. Very proud of Kian and the little yellow colt.
Tegtmeier Paints And Quarter Horses
Diane Tegtmeier
27479 Willow Ave.
Shell Rock IA 50670
Cell: 319-215-9090 (Cell)
Fill our our Contact form here